Blues, Bourbon, & BBQ
Thursday, October 6th | 6pm-9pm | Crystal Lake Barn @ Hampton Lake, Bluffton
We are so excited to welcome Scott Ainslie, a renowned artist, songwriter and musician. Ainslie is a masterful and thoughtful storyteller and musician. You can learn more about his work by visiting his website at: http://cattailmusic.com.
In addition to our talented artist, we will have a live and silent auction, and BBQ prepared by Chef Danny Hieronymus. You can learn more about Chef Danny by visiting his website at: Hieronymusprovisions.com.
For a limited number of guests, we will have an exclusive Pre-Event VIP bourbon tasting. You do not want to miss this event!
Buy tickets HERE.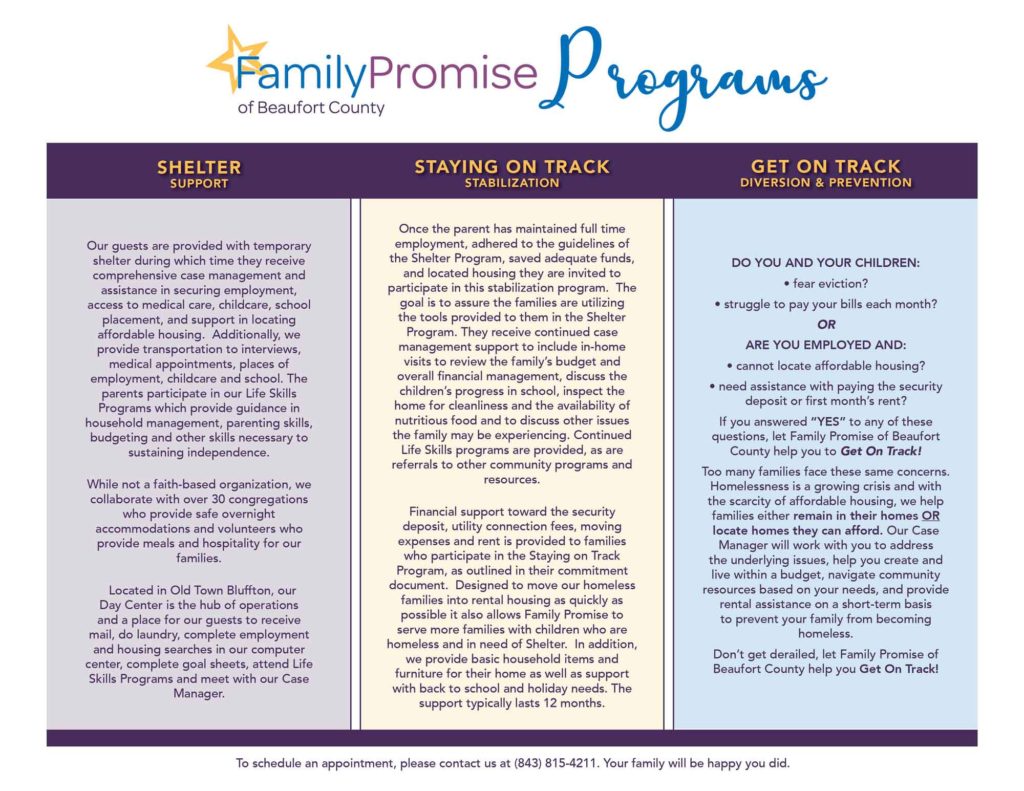 We are Family Promise
The Family Promise model is successful, unique, and cost effective.
We are the only shelter in both Beaufort and Jasper Counties.
Over 90% of families graduating our program are still in permanent housing after one year.
We operate at 1/3 the cost of traditional shelters.
Since opening our doors in July 2008, we have assisted over 900 individuals, 61% of which were children.
0
%
of the parents are employed when they leave our Shelter Program
Over
0
%
Families graduating our program are still in permanent housing after one year
0
+
The number of people assisted since we opened in 2008
0
+
Volunteers engaged at the local level
0
%
of our expenditures in fiscal year 2020, were for direct program services
Transforming the lives of homeless families with children