Charity Spotlight – Family Promise of Beaufort
The Hampton Hall Charitable Fund takes its mission to aid local nonprofit agencies very seriously. The board looks closely at each organization's focus, annual budget and ability to truly make a difference for people in need in our area.
That's why HHCF is proud to support the work of Family Promise, the only organization in Beaufort County dedicated to providing shelter to homeless families with children and helping them find and keep a permanent place to live.
"Homelessness may not be as evident in Beaufort County as it is in more urban areas, but the problem here is very real and very difficult to address because there are so few affordable housing units available," says Lynda Halpern, executive director of Family Promise and a Hampton Hall resident. In fact, she notes, the lack of affordable housing is the biggest problem facing Beaufort County, eclipsing even job growth.
"So many families are reduced to 'couch-hopping' – that is, moving from one relative's house to another until their options simply run out. Our role is change that dynamic and find them a home of their own," Halpern says. An independent affiliate of the national organization, Family Promise opened in Beaufort County in 2008. The agency works with four families at a time to find housing, but the road to that "forever" home is long and hard, taking a great deal of time, patience and hard work on the part of both Family Promise and the people it serves – like Diana G.
A single parent, Diana found herself without a home in June 2014. Unable to pay her bills or her rent, Diana and her young daughter Trinity moved from house to house and sometimes from one cheap hotel to another until she finally found Family Promise.
"That day, I really broke down and cried because we were officially homeless. My first night was so miserable, I wanted to give up, but I had to remind myself that my daughter was looking up to me as a role model."
As the weeks went by, Diana, with guidance from Family Promise, started to put her life back together. She looked for work, found daycare for her daughter, learned to budget and was able to move into a furnished townhouse close to shopping and other services on Hilton Head Island.
"My experience becoming part of Family Promise woke me up," Diana says. "The journey hasn't been easy; it was a test — a test that I made it through!"
Families, like Diana's, usually come to the agency as a result of referrals from other local organizations such as Bluffton Self Help. As Family Promise begins its search for a permanent home, each family is housed in special accommodations provided by a coalition of 36 churches throughout the county.
"The communal living arrangements aren't easy, but our congregations are truly wonderful and do all they can to make the families comfortable by offering clean beds, showers, meals, outdoor play areas and gathering rooms so families can spend time together," Halpern says. "To minimize the burden on the churches, families stay in one congregation for only a week at a time before they must pack up and move to new location. It's disruptive and can be disheartening, but the families who enroll with us understand that this is how the program works and they're determined to see it through."
Family Promise – with a staff of just four people (two of them part-time) — provides a wide range of support that includes helping the head of the household search for a job (and even write a resume), learn to manage a budget, enroll their children in school or daycare, and take care of any medical needs family members may have. The staff also refers families to other local agencies as needed for additional support.
"This is a working program," Halpern says. "Those who are invited to participate must be willing and able to work."
Family Promise keeps in close contact with the families for a full year after they move into their new homes. Case managers visit weekly at first and then monthly to make sure they have everything they need to keep the household going.
"We're proud to say that 92 percent of the families that 'graduate' from our program are still in their own homes a year later," Halpern says. "And that's a very difficult thing for many families to do because they face so many obstacles. Many of them don't have cars and have to find transportation not only to their jobs but also to daycare centers, grocery stores, doctors, you name it. And many of the jobs these less-skilled adults find require them to work evening or weekend hours, meaning that childcare becomes just one more problem. Success for these families takes strength and determination."
Family Promise operates on a lean budget of $344,000 a year, with funding coming from the state department of housing, grants from local foundations and fundraising events. In fact, Family Promise is the beneficiary of this summer's concert series at Palmetto Bluff. Concerts began on May 16 and are held every other Tuesday evening until Aug. 8. The agency also relies heavily on donations from people throughout the county and is always looking for volunteers.
"We can use just about everything – from diapers to cleaning supplies," Halpern says, "and we need volunteers to help in our office during the week and on weekends with general administrative work." The agency also needs people to stay overnight at the congregations to make sure the families don't encounter any problems.
If you're interested in making a donation or volunteering, visit the Family Promise website at http://familypromisebeaufortcounty.org/ or call the Day center at (843) 815-4211. "We're proud of the work we do," Halpern says, "but we're even prouder of how hard our families work to make a better life for their children in a home of their own."
Summary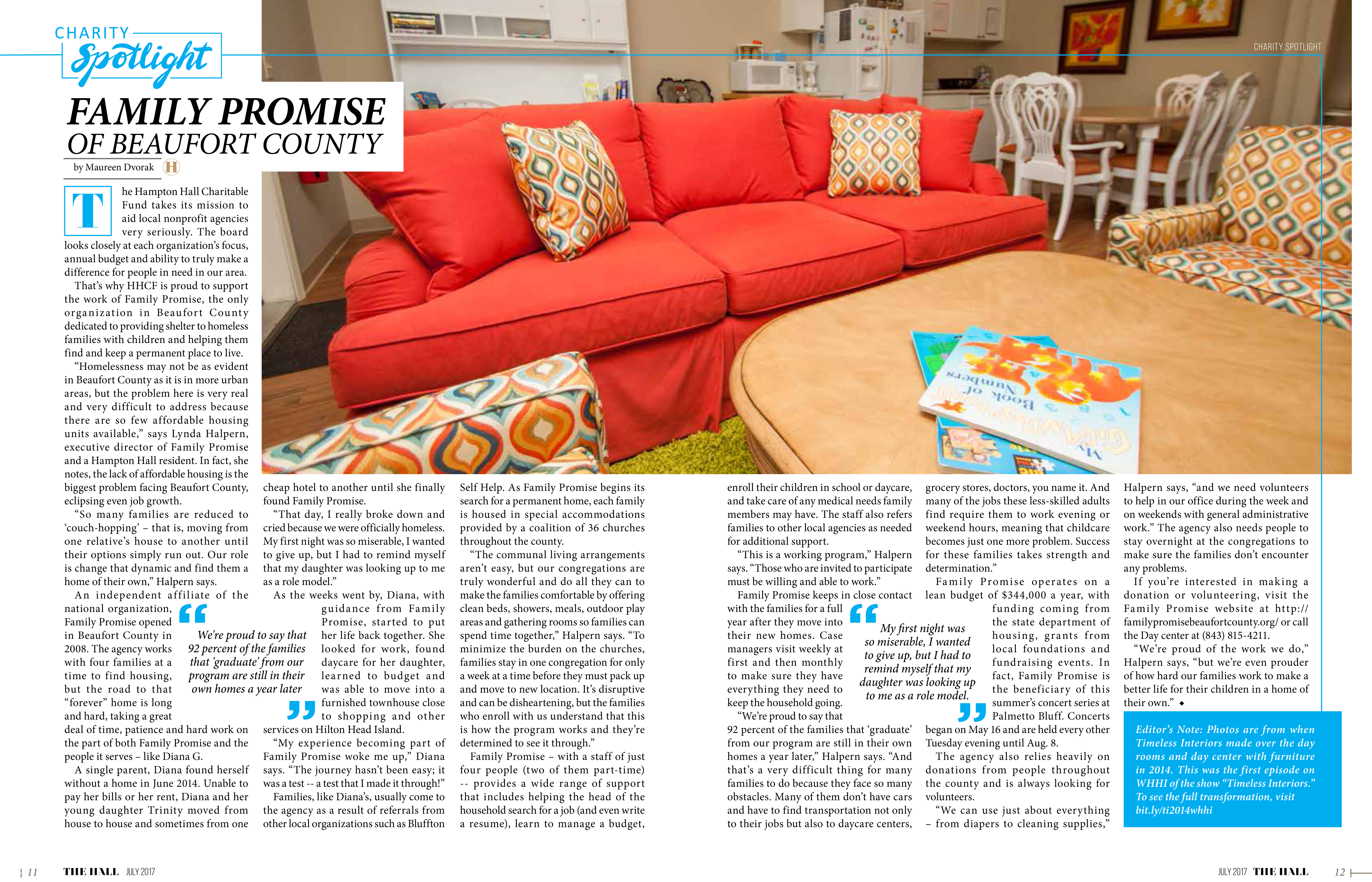 Article Name
Author
Publisher Name