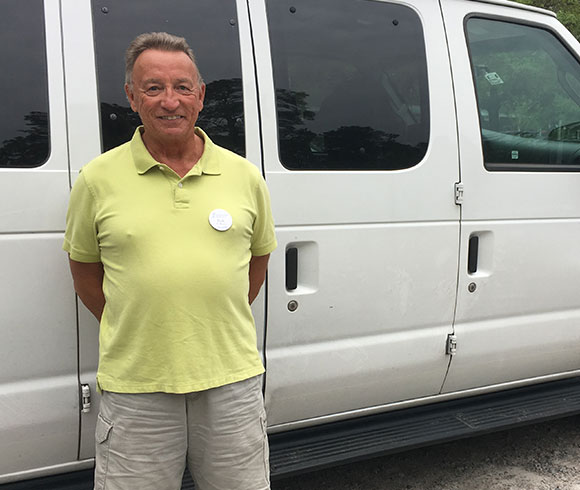 Bob has been driving for Family Promise for two years. He says it's the "perfect job" for him as he enjoys the hours — early in the morning he picks up guests from host congregations and in the early evening he returns. Bob says he loves interacting with the children who are in the Family Promise program. "A man never stood as tall as when he stoops to help a child," is a life-long belief of his.
Driving for Family Promise is a natural as Bob retired 10 years ago after more than 34 years driving a big rig car carrier truck. He and his wife Peggy, who passed away two years ago, moved to the Lowcountry from Maryland. They had been married for 44 years. Having vacationed on Hilton Head, they decided they would enjoy the area and moved to Sun City. Bob is the proud father of a son, Robert C., who is a Major in the Marine Corps. who along with his wife and their four children are currently stationed in Japan.
Bob teaches water aerobics, manages a softball team, and is captain of his bowling team. Elmer, Bob's 92-year-old father- in-law, lives with him and often attends many of Bob's games and other activities.